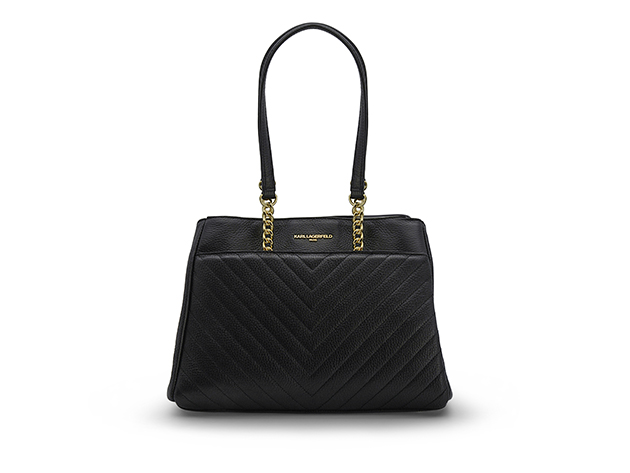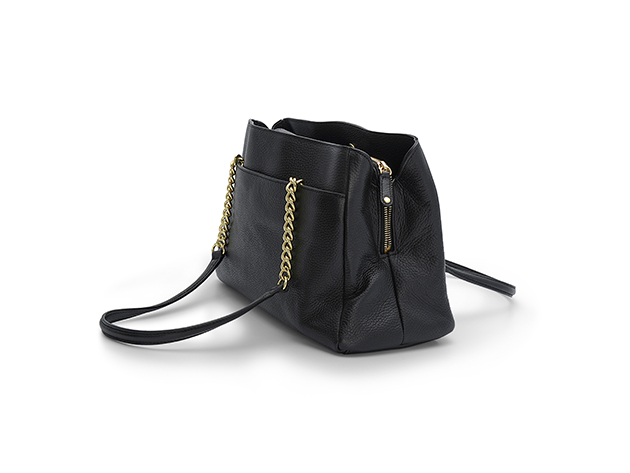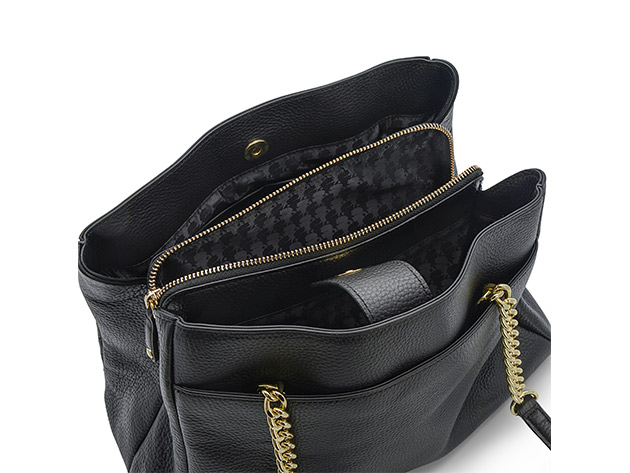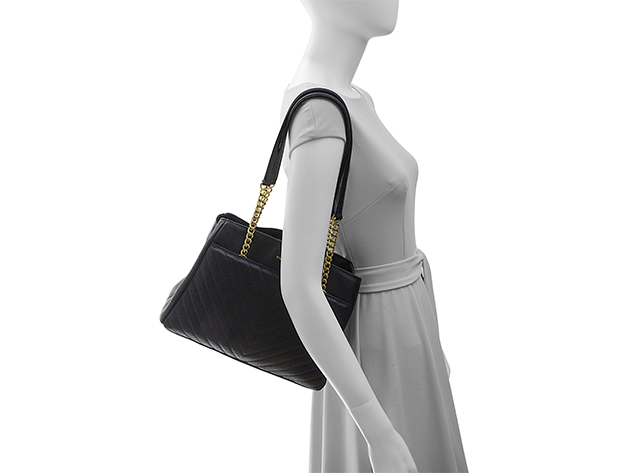 Karl Lagerfeld Charlotte Black & Gold Leather Tote (Store-Display Model)
by Karl Lagerfeld
Take Your Luxury Game to the Next Level with This Tote's Authentic Pebbled Leather, Quilted Chevron Design, & Gold-Toned Detail
Description
For the woman who wants it all, this designer handbag has no equal. The authentic pebbled leather exterior is flattered with a quilted chevron design and gold-toned detail, so you can be sure that no one will mistake your expensive taste for anything less. The lined interior features two slip pockets and a back pocket, with a spacious zipper compartment in between, so you can store everything from your phone to your chequebook in style. The versatility doesn't stop there: this stylish tote is equipped with additional storage on its exterior and has 12" leather handles flattered with adjustable links. All of this comes in a Karl Lagerfeld Dustbag to protect your investment.
Authenticity Guaranteed. All Products are Store-Display Models, Sourced from Authorized Retailers. They've only been handled by staff and tried on by customers but have never left the store. Some have never left the store vault.
Classic Karl Lagerfeld Tote
Authentic pebbled leather flattered with a chevron design & gold-toned detail
Lined interior features 2 slip pockets & a back pocket with a spacious zipper compartment in between
Equipped with additional storage on its exterior & has 12" leather handles
Shipped in a Karl Lagerfeld dustbag
Specs
Specs
Brand: Karl Lagerfeld
Model: LH9AA575BGD
Color: black
Materials: authentic pebbled leather
Dimensions: 12.6"W x 9"H x 5.9"D
Style: tote
Manufacturer's 2-year warranty. For more information, click here
Please make sure to include your phone number at checkout for delivery confirmation purposes
Includes
Karl Lagerfeld Charlotte Black & Gold Leather Tote (Store-Display Model)
Box & Papers
About ShopWorn
ShopWorn is an e-commerce platform offering authentic, unused, unworn luxury products secured directly from authorized retailers and brands to customers. When brands and retailers have unsold inventory, they contact the ShopWorn team to hand over hundreds of jewelry, watches, and luxury accessories that have never found a permanent home.
The ShopWorn team meticulously inspects every item, accepting only high-quality products with minimal blemishes. These blemishes are what makes the products "shop worn" as they're the result of being handled in a store -- or shop -- environment. "Shopworn" means the item has never left the store. Customers who buy from ShopWorn are the first customers to own the item.
Since ShopWorn only works with authorized retailers or directly with brands, every ShopWorn product is guaranteed to be 100% authentic. A ShopWorn customer need never wonder if a product has been refurbished using unauthorized parts or if it is a knockoff. The direct relationship between ShopWorn, brands, and authorized dealers alleviates any question of authenticity.
Shipping
Ships to US
Expected Delivery: Feb 8 - Feb 13
Terms
Returns accepted within 30 days of shipment for orders within the Contiguous US.