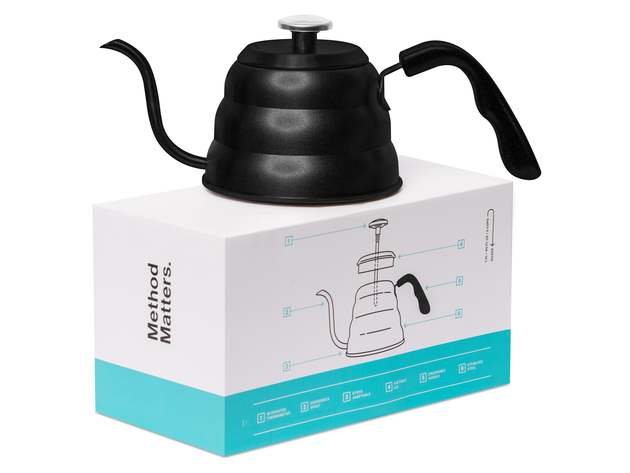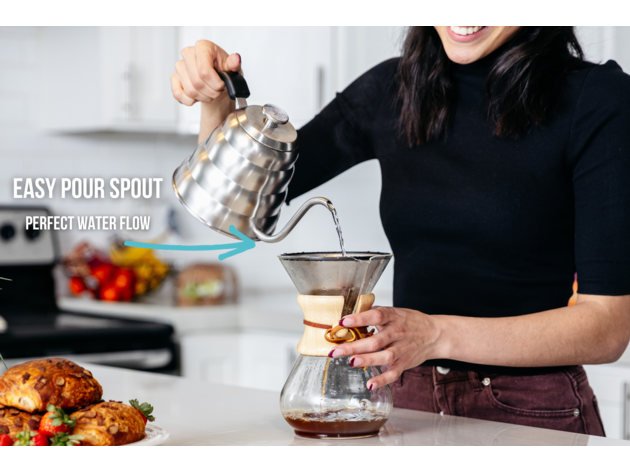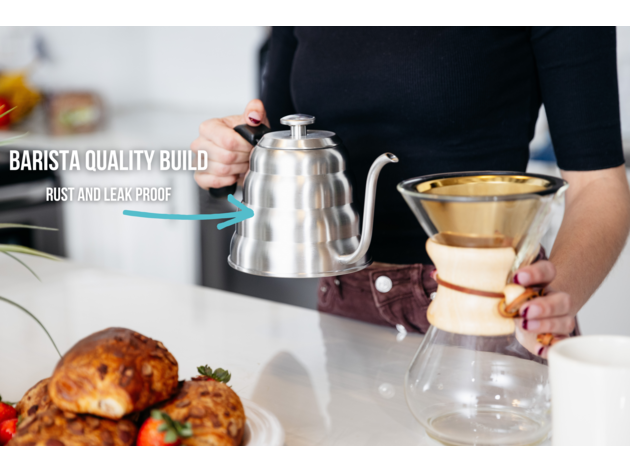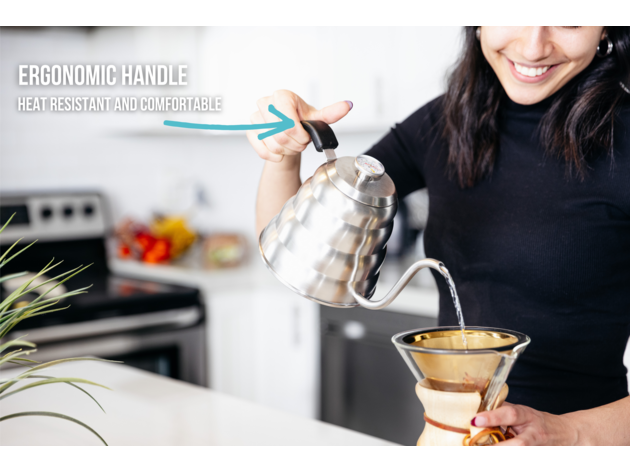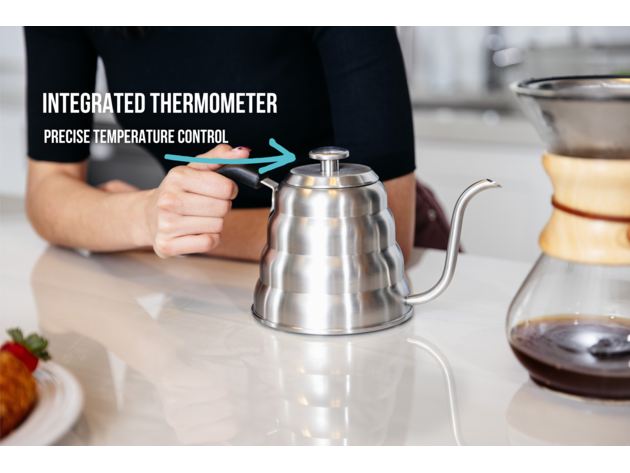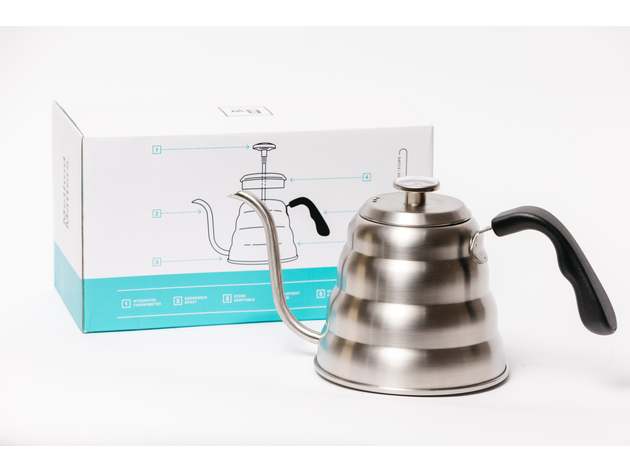 Pour Over Gooseneck Coffee Kettle with Thermometer
by Barista Warrior
Specs
Method Matters. Use Barista Warriors Pour OverKettle to Brew a Tastier Cup of Coffee. Unlock richer, smoother flavors from your roast with a slow, controlled pour!
Imagine finally mastering pour over coffee. Knowing just the right amount of coffee grounds to use, the ideal wrist motion, the perfect timing. That cup of coffee might just be your best yet. So, why not start now?
Brew pour over coffee like a barista with the Barista WarriorPour Over Kettle now available in copper-coated stainless steel.
Integrated Thermometer: Alerts you when your water temperature reaches 195F - 205F, the perfectbrewing temperature (unlocks the full depth of flavors from your coffee, without burning it).
Easy-Pour Gooseneck Spout: Easy-to-pour gooseneck spout for precise water flow the key to making barista-quality pour over coffee or tea.
Professional Quality Materials: Premium surgical-grade 18/8 stainless steel keeps rust at bay. The double-layer metal base keeps your kettle leak-free and rust-free.
No-Risk Purchase: Comes with alifetime warranty. If youre not 100% satisfied with your pour over coffee kettle, simply return it within the first year and receive a FULL refund.
Features:
Integrated Thermometer - Provides precisetemperature control (195F - 205F) for the perfect pour over (or cup of tea!)

Gooseneck Spout - Provides precise water flow and speed, without the mess

Ergonomic Handle - Designed for comfort pouring with heat resistance

Airtight Lid - Secure top for stress-free pouring (prevents spills and leaks)

Stainless Steel - Made from premium surgical-grade stainless steel, making it rust and leak-proof

Stove Adaptable - Double-layer metal base, constructed for induction, halogen, gas, and electric stove ranges, so you always have brewing options

Quality Construction - Lifetime manufacturers warranty (if youre not completely satisfied, simply return within the first year and receive a full refund)

Varied Sizing - Available in 1.2 / 40 fl oz / 5 Cups or 1 Liter

/ 34 fl oz / 4 Cups
Here are4 easy steps to make barista qualityPour Over coffee at home in just 6 minutes!
1)Medium GrindCoffeeBeans
Grab your favorite coffee beans, measure out about60grams of beans,and give them a medium to fine grind. If you can use a burr grinder for best results. Pour the grinds into your filter. Dialing in your grind will take some trial and error to find what you love best.
Pro Tip:Create a divot/well in the middle of the grinds. This will help ensure all the coffee grounds get evenly saturated with water.
2)First Pour
Heat the water in your gooseneck kettle to 198-200 degrees fahrenheit. Start pouring in the middle of your coffee grounds making circles until you each the edge and ensure all the grounds are wet.
3) Bloom!
Swirl the carafe toensure all the coffee grounds get saturated with water and create an even coffee bed. Now let it sit for about 45 seconds for the coffee to bloom!
4)Second Pour
Pour the remaining water over the coffee grounds using the same technique as the first pour, but go slow and don't rush it.
Pro Tip:Swirl the carafe again and give the coffee grounds a quick stir with a spoon. This ensures you're getting all that flavor out of those beans and into your cup.
Let the coffee sit and steep forabout 4 minutes, giving the grounds time to release their oils and flavors. This ensures maximum extraction.
Serve & Enjoy YourPerfect Pour Over Coffee!
You did it! You're a home barista now. Pour yourself a nice cup of coffee, sit back, and enjoy.
Read our fullPerfect Pour OverGuidefor more tips.
Shipping
Ships to US
Expected Delivery: Jun 12 - Jun 16
Terms
Returns accepted within 30 days of shipment for orders within the Contiguous US.